Everyone has a story. As Dustin Hoffman once said, "We all spend our lives telling them, about this, about that, about people." Some stories make us laugh, while others make us cry. Simply put, storytelling is powerful.
There a number of ways for marketing professionals to improve their storytelling abilities, but AMA Tampa Bay wanted to learn from the best. Drum roll, please…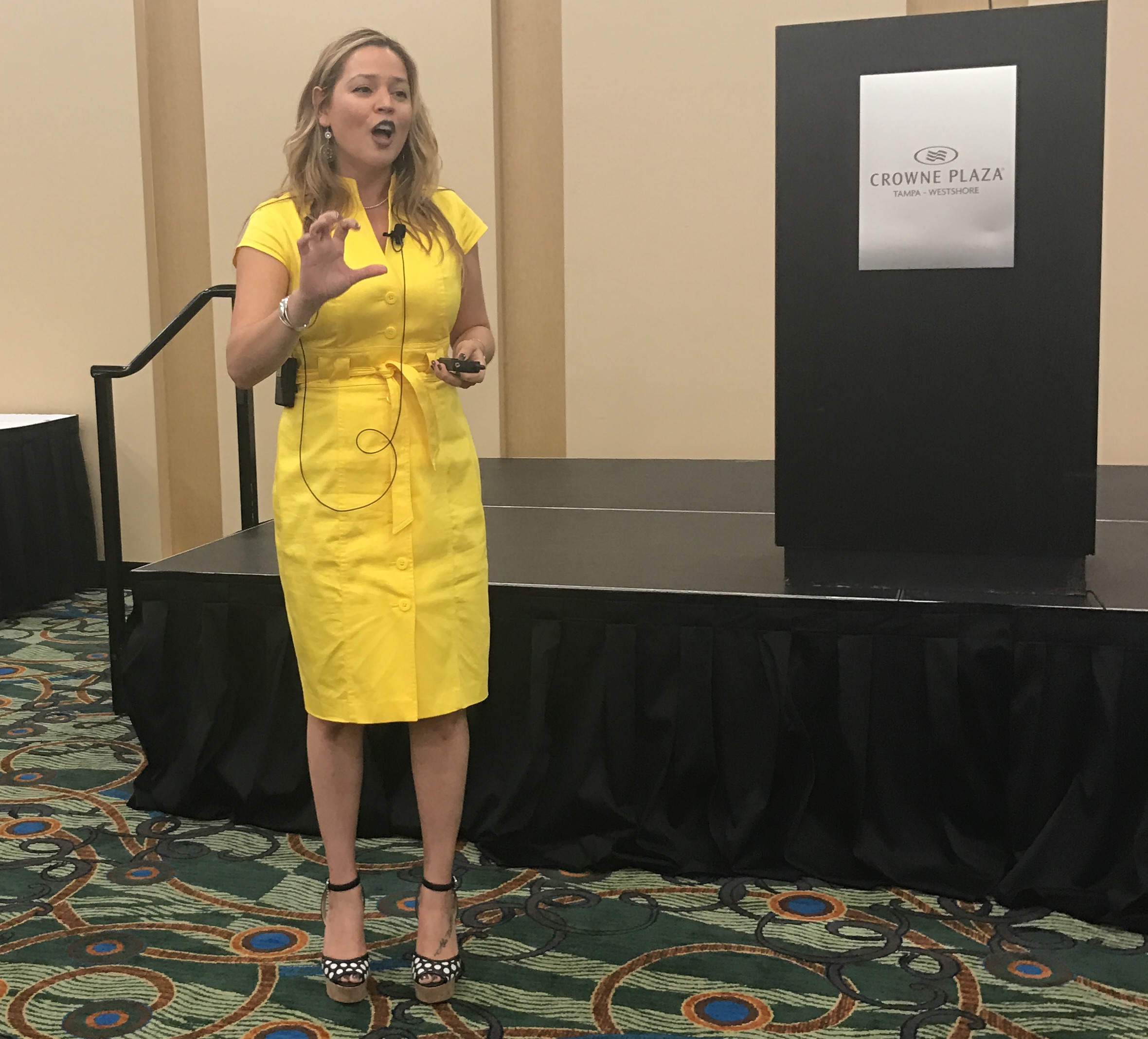 On Thursday, Miri Rodriguez spoke at an event held at the Crowe Plaza Tampa-Westshore. Rodriguez is the Delivery Development Lead in Social Media and Communities at Microsoft. She explained how the iconic brand has found its "social voice" by delivering stories through social media that are based on the technology company's mission and vision.
Rodriguez's opening line? "Every brand has a story. Every story is unique." Rodriguez went on to point out that brands often forget to share why they exist.
Microsoft's stories focus on real people and their achievements. Microsoft's storytelling formula includes revealing what inspires customers, their hopes and dreams, and how the company is helping get them there.
To show what she meant, Rodriguez introduced the group to Ariela Suster. Suster is disrupting the cycle of violence in El Savador by empowering at-risk youth. Some of her handcrafted products are designed on a Microsoft Surface:
Rodriguez says it's important to mention the ups and downs of the journey. A story should include supporters since no single person is responsible for an achievement.
An emotional story will connect customers to a brand. Pause and grab some tissues! Rodriguez shared the following Google commercial with Thursday's AMA group:
Another way to gather new content is to encourage people to talk about your brand. They're already doing it! "Give the power to the people and they'll create authentic content," says Rodriguez. Coca-Cola is another brand that gets storytelling. The company capitalized on self-expression and sharing with its "Share a Coke" campaign.
"We gave consumers an opportunity to express themselves through a bottle of Coke, and to share the experience with someone else," says Lucie Austin, who now runs marketing for Coca-Cola's Northwest Europe and Nordics business unit. "The fact that your name is on a Coke bottle, it can't get more personal than that!"
"When teens see that the iconic Coca-Cola logo has been replaced by their name or their friends' names, they can't help but take a picture and post it online," explains Jennifer Healan with Coca-Cola North America.
The proof is in the numbers. According a 2014 Wall Street Journal article, "Share a Coke" is credited with increasing Coca-Cola's sales for the first time in more than a decade.
Marketing professionals left Thursday's event with a fresh perspective on how to craft consistent stories about their brands.
"Speaking at the event was a great opportunity to share insights and learnings with a great group of marketers. It means knowledge sharing and creating opportunities for collaboration in the marketing space, despite the industries we are in," says Rodriguez. "The event was well put together and the atmosphere was wonderful, I truly enjoyed it! I'd tell people to put that inspiration into action and start incorporating their learnings right away before it fizzles away!"
You have a story. Tell it well! Remember to tell real stories of real people, and know how your brand helped them achieve their goals. How do you share stories about your brand? Tell us by leaving a comment.