In today's business world, it's critical that an organization's IT infrastructure is "always on." This requires that it be highly resilient and capable of withstanding all sorts of outages. Lack of application availability, the loss of critical information and decreased workforce productivity can cause serious harm to the business. Customer loss due to poor experiences usually results in permanent damage.
There's a perception that many disasters occur as the result of nature. In truth, the real culprits in these business disasters are mostly man-made. They typically are created by a power surge or power outage, the accidental deletion of data or even unforeseen database corruption. Therefore, it is critical for organizations to have automated data protection capabilities built into their IT infrastructures. This way data restoration is immediate and business uptime is preserved.
These are the essential building blocks of a business continuity strategy:
Minimize Data Loss During an Event
By reducing the effects of data loss during an event, disruption to business operations and productivity is eliminated, or at least kept to a minimum. Rely on only those storage solutions that provide for fast recovery to keep your data accessible.
Empower Employees to Restore Their Data
By implementing the right backup and recovery solution, employees are able to restore their data on a new device themselves. What used to take days can now be accomplished within hours. Advances in storage technology have made it commonplace to teach employees how to generate their own file restore requests without involving IT, saving time and money. Employee productivity is also restored much faster.
Added Redundancy = Added Protection
Look to the Cloud for redundancy. Incorporating the Cloud as part of your backup solution provides insurance in the form of an off-site facility for added data protection. Look to Managed IT Services Providers (MSPs) who specialize in business continuity solutions that can augment your disaster recovery environment.
Look to Vology & Hewlett Packard Enterprise
All of these elements are incorporated in the products that make up Hewlett Packard Enterprise Just Right IT. Vology is the MSP that can get you the comprehensive backup and recovery solutions your business needs for continuity. It starts with choosing the right server as the backbone of your IT. We recommend HPE Gen9 servers, powered by Intel® Xeon® processors for many small to mid-sized business (SMB) customers. From there, we specify HPE storage products which can provide your business with 23% faster backup, while reducing your company's backup capacity requirements by 95%. These backup solutions are simple, affordable and flexible. They are designed to keep your business up and running.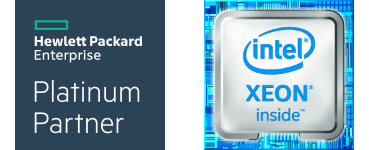 Intel, the Intel logo, Xeon, and Xeon Inside are trademarks or registered trademarks of Intel Corporation in the U.S. and/or other countries.