The phrase "resilient IT infrastructure" is probably one you're quite familiar with. You've likely even had conversations about it — with or without using this exact wording. Either way, you'll need a lot more than fancy terminology to ensure that your business is running securely on a continual and efficient basis.
What Exactly is Resilient IT Infrastructure Anyway?
The definition of 'resilient' refers to an object's ability "to spring back." In the case of IT resiliency, it means the ability of a server, network, storage system or even an entire data center, to recover quickly and continue operating when a disruption occurs.
Enterprise organizations pour tons of money into planning for resiliency — things like off-site redundancy or data center collocation — so if failure strikes the system, workloads immediately shift to the other system. Essential, mission-critical workloads are prioritized so that business continuity can be maintained, while non-essential workloads may go offline as the systems are restored.
Only the big guys can afford to build IT resiliency, right? Wrong.
Now IT Resiliency & Security Are for Everyone
Small to mid-sized businesses (SMBs) are arguably more vulnerable than enterprise organizations if they go offline. You have less cushion to absorb a break in operations. Therefore, it's imperative you keep your business running. For this, you need:
Application and system availability – to avoid downtime
Network threat detection and security – to thwart crippling attacks
Efficient data protection and recovery – to preserve your valuable business assets
The resiliency your IT infrastructure requires is built into Hewlett Packard Enterprise Just Right IT products.
What is Just Right IT?
HPE Just Right IT products include servers, storage and networking. They're designed with built-in resiliency, proactive security management and efficient backup and recovery. Just Right IT includes:
HPE Gen9 servers, powered by Intel® Xeon® processors. These servers let your business take advantage of the opportunities brought about by a mobile world. They can power your analytics, applications and workloads.
Storage products that provide data security, as well as increased system capacity. HPE StoreVirtual has 99.999 percent availability and reliability, so if it ever fails, it can still keep data online and accessible to your applications.
Networking solutions that increase productivity to help SMBs compete in a mobile-cloud world. Networking solutions from Aruba, a Hewlett Packard Enterprise company, offer wired and wireless networking with integrated management and security.
The best part of Just Right IT? It is delivered to you — specified, implemented, integrated, and managed — by Vology. We are a Hewlett Packard Enterprise Platinum Partner and have 150+ professionals across engineering, sales, logistics, customer service and operations who collaborate to deliver uncompromising quality.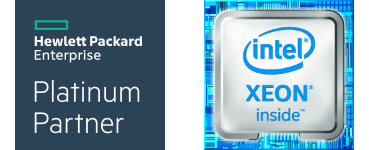 Intel, the Intel logo, Xeon, and Xeon Inside are trademarks or registered trademarks of Intel Corporation in the U.S. and/or other countries.