Any small to mid-sized business (SMB) owner knows that they need to make it easy for partners and customers to do business with them. They also know the best way to do this is by embracing the immediacy and interactivity that the mobile-first, cloud-based business world enables. The challenge is that these various mobile devices are connecting through the organization's network at a dizzying pace. So, while this ever-increasing partner and customer activity is great, it brings with it a heightened level of risk.
As transactions increase, so does the probability of unauthorized access to sensitive company data. This could be the owner's data, or in many cases, their customers' data. There's an added dimension to this vulnerability. Data breaches can just as easily occur from within the organization as they can from outside of it. For IT departments to build a pervasive security strategy, they need to incorporate modern security technologies and practices.
1. Secure the Foundational Network
Network devices like firewalls, switches and routers have become smarter. They authenticate users and it's only upon verification, that users can gain access to certain data. This is still a reliable first line of defense.
2. Deploy Software Defined Networking (SDN) to Do the Job
SDN is a powerful tool for automating IT security across an entire organization's network. It can automatically analyze switches, routers and wireless access points for protection against threats. SDN can also prioritize network traffic so critical customer requests have the highest priority.
3. Employ Security Analytics as a Proactive Strategy
New network monitoring tools can analyze data as it is going over the wire. They compare traffic patterns to known normal traffic activity in real-time. If they notice abnormal activity, they immediately tag and isolate that traffic. This monitoring and sequestering ability averts distributed denial-of-service (DDoS) attacks.
4. Add a Multi-factor Authentication (MFA) Layer 
Hackers work around the conventional security guardrails every day. Stay ahead of the attackers with MFA application software that includes both strong (multi-factor) and risk-based methods. MFA software can detect when a user sign-on request is coming from a suspicious device or an unknown location and deny access automatically.
Just One More Thing
Hewlett Packard Enterprise Just Right IT encompasses all the technology elements you need to apply a multilayer network security strategy that combines HPE Gen9 servers, powered by Intel® Xeon® processors, storage, software and services provided by Vology. With solutions that are created to scale, you're ensured of enterprise-grade protection for your business today and well into the future.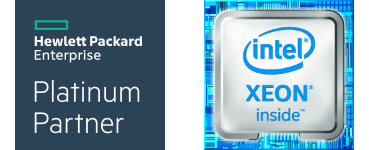 Intel, the Intel logo, Xeon, and Xeon Inside are trademarks or registered trademarks of Intel Corporation in the U.S. and/or other countries.